Soldiers of Salamis (Paperback)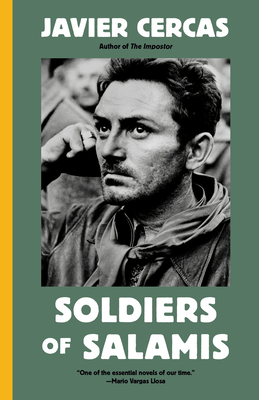 $16.95
Email or call for price.
Description
---
A novel of the Spanish Civil War—a modern classic, an international bestseller, and a searing exploration of the unknowability of history. 

In the waning days of the Spanish Civil War, an unknown militiaman discovered a Nationalist prisoner who had fled a firing squad and taken refuge in the forest. But instead of killing him, the soldier simply turned and walked away. The prisoner, Rafael Sánchez Mazas—writer, fascist, and founder of the Spanish Falange—went on to become a national hero and ultimately a minister in Franco's first government. The soldier disappeared into history. Sixty years later, Javier Cercas—or at least, a character who shares his name--sifts through the evidence to establish what really happened that day. Who was the soldier? Why didn't he shoot? And who was the true hero in the story? Every answer yields another question in this powerful and elegantly constructed novel about truth, memory, and war.
About the Author
---
Javier Cercas is a novelist and columnist whose books include Lord of All the Dead; The Impostor; The Speed of Light; The Anatomy of a Moment; Outlaws; and the novellas The Tenant and The Motive. His books have been translated into more than thirty languages and have received numerous international awards. He lives in Barcelona.
Praise For…
---
"A haunting and provocative book about history, memory, and the elusive nature of heroism." —The Washington Post

"Gripping . . . a tear-jerker in the best sense of the word. . . . Soldiers of Salamis strikes a chord in any country or individual with ghosts to face." —Los Angeles Times

"Stealthily brilliant." —The New York Times Book Review
 
"Lays bare the virtual impossibility of historical certainty, the whimsicality of fate, the unpredictability and unreliability of memory and the elusiveness of truth. . . . Cercas perfectly captures the uncanny ways in which a story evolves." —Houston Chronicle

"Of exceptional literary merit." —John Hooper, The New York Times Book Review