Her Guilty Secret: An absolutely gripping page-turner about friendship and secrets (Paperback)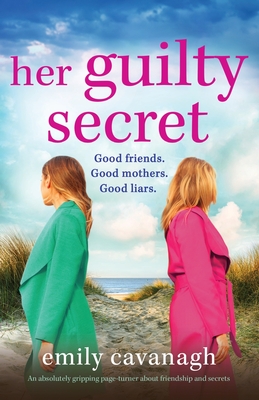 $10.99

Usually Ships in 1-5 Days
Description
---
"A FANTASTIC novel... What a PERFECT weekend read. I just LOVED the friendships of the four women... I am sooooo sad its over." Goodreads Reviewer, ⭐⭐⭐⭐⭐
Would a true friend lie to you?
Ivy has been looking forward to seeing her oldest college friends for months. But this reunion couldn't have come at a worse time.
Her husband has left her and she is struggling to pay the bills. She's never felt less like sitting around joking and drinking cocktails.
But not wanting to let everyone down, Ivy boards the plane to Boston and makes her way to Elise's Cape Cod summerhouse, where Ada and Libby are waiting.
She knew Elise's husband was successful, but the house on the ocean, with floor-to-ceiling windows, is more opulent than she imagined. And there are photographs of Elise's perfect, happy family in every room. Already struggling to put a brave face on things, Ivy finds herself reaching breaking point.
That evening, as the four friends gather on the sofa along with several bottles of wine, someone suggests they play truth or dare...
As the game goes on, something is said that can't be taken back. Something that makes Ivy question if these women were ever her friends to begin with.
But this is not the only secret these women have been hiding. As new revelations come to light, will the weekend bring them closer or tear them apart for good?
A gripping, emotional novel about the complexities of friendship and the lengths we will go for the ones we love. Perfect for fans of Big Little Lies, The Family Next Door and The Silent Wife.
Praise for Emily Cavanagh:
"Hooked me on the first page... This book grabbed me... I read it in two sittings." The World Is Ours to Read, ⭐⭐⭐⭐⭐
Heartbreaking and poignant... A story of secrets and families, love, loss and betrayal... Loved, loved, loved this book." Goodreads Reviewer, ⭐⭐⭐⭐⭐