Mash Up (Paperback)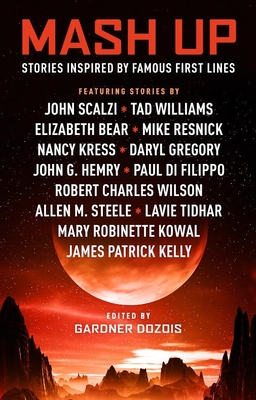 $14.95
Email or call for price.
Description
---
Stories Inspired by Famous First Lines

Pride and Prejudice meets Macbeth by way of The Wizard of Oz and a dollop of the speculative, in this entertaining anthology where authors get inspiration for short stories from the first lines of famous works of literature. Edited by respected anthologist Gardner Dozois, the collection features Mary Robinette Kowal's Hugo Award-winning story "The Lady Astronaut of Mars".
About the Author
---
Gardner Raymond Dozois is an American science fiction author and editor. He is the founding editor of The Year's Best Science Fiction anthologies (1984-present) and was editor of Asimov's Science Fiction Magazine (1984 - 2004), garnering multiple Hugo and Locus Awards for those works almost every year. He has also won the Nebula Award for Best Short Story twice. He was inducted by the Science Fiction Hall of Fame on June 25, 2011
Praise For…
---
"Once I started a story, I couldn't stop until I finished it. And then once I finished one story, I immediately wanted to go on to the following story to see where the next author took his or her chosen line. As someone who's never had the imagination or aptitude for creative writing, it's truly fascinating to see how a group of authors can use a single line of text as the jump-off point to create such diverse and interesting characters, worlds, and themes"

"Highly addictive and creatively inspiring" - VG Blogger 

"An engaging read from start to finish" - Nerdspan

"A delightful read" - Gamers Sphere

"Mash Up is a fantastic collection of stories from different authors who bring their own unique perspective to each one." -  Bio Gamer Girl 

"The resulting stories transcend novelty through their sheer originality and range, from a conspiracy thriller using the first line of Edward II, to a story about an aging astronaut that shares a first line with The Wonderful Wizard of Oz." - Barnes & Noble Sci Fi