Alice in Plunderland (Paperback)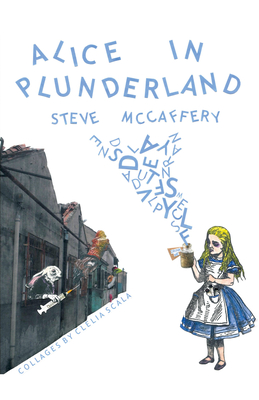 $20.00
Email or call for price.
Description
---
Fiction. Art. With collages by Clelia Scala. From the multi-award-winning poet and scholar Steve McCaffery comes ALICE IN PLUNDERLAND, a reimagining of Lewis Carroll's Alice books that will forever change the way readers negotiate Wonderland and its menagerie of characters. Written as part of a larger project called Chiasmus, in which McCaffery will queer the classics, Plunderland's Alice and all her cohorts become infused with characteristics related to the notion of plunder--theft, drug addiction, looting, and civil disorder. Instilled with humour, intelligence, and more than a little bit of absurdity, this retelling of Alice's adventures takes place somewhere other than expected. In the rough-and-tumble world of Plunderland, where theft, drugs, and gangs hold sway, and nary a tea party is to be found, the Cheshire Cat is a junkie from the UK; the King and Queen reign over the land of Cocaine; even Alice's adventures are transformed in her quest for a fix.

Literature for McCaffery... is not an act of imaginative creation but a procedure, a machine for estranging us from our own language--estranging and thereby recuperating... Panopticon] is ultimately a profoundly optimistic work, a leap of faith that chooses to revel in the opacity of language... A hypnotizing work.--Full Stop
About the Author
---
Author of around 40 books of poetry and criticism published variously in Canada, England, and the United States, McCaffery was a founding member of the sound poetry ensemble Four Horsemen (with bpNichol of TRG--The Toronto Research Group), and a founding theorist of Language Poetry. He has published three previous titles with BookThug: a revised second edition of Panopticon, The Basho Variations, and Every Way Oakly (homolinguistic translations of Gertrude Stein's Tender Buttons), as well as editing the first Canadian edition of Stein's book of that name. He is the two-time recipient of the Gertrude Stein Award for Innovative Writing, and was shortlisted twice for the Governor General's Award in Poetry. He lives and teaches in Buffalo, NY, where he is the David Gray Professor of Poetry and Letters at the State University at Buffalo.