The Killing Room (The China Thrillers #3) (Paperback)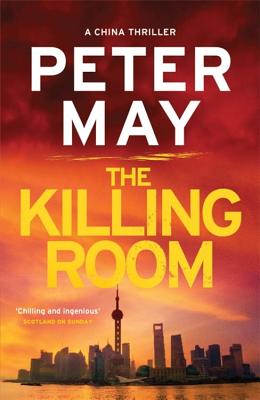 Other Books in Series
This is book number 3 in the The China Thrillers series.
Description
---
"A SKILLED STORYTELLER WHO KNOWS HOW TO SERVE UP VIVID NARRATIVES, ROMANTIC ADVENTURES, COMPELLING CHARACTERIZATIONS, RIVETING PLOTS AND INTRIGUING VIEWS OF MODERN DAY CHINA." --BookLoons
"A BRISK, SOLIDLY PLOTTED POLICE PROCEDURAL, WITH LOTS OF GRITTY FORENSIC DETAILS." --Mystery Scene Magazine
Detective Li Yan and forensic pathologist Margaret Campbell travel to Shanghai, where a new ally--and a new enemy--await.
When a mass grave containing eighteen mutilated female corpses is discovered in Shanghai, detective Li Yan is sent from Beijing to establish if the bodies are linked to an unsolved murder in the capital. Here, Li will be working with Mei Ling, deputy head of Shanghai's serious crime squad.
Mei Ling is a formidable woman: a fact that is not lost on Li's on-again, off-again lover, forensic pathologist Margaret Campbell. But when Campbell, vulnerable and still grieving the death of her father, learns that the victims were subjected to "live" autopsies, she swallows her pride and joins Li Yan and Mei Ling in the hunt for the murderer.
As Li, Campbell, and Mei Ling enter the arena of a sickening nemesis they are forced to confront each of their very worst nightmares.
About the Author
---
Peter May has written several standalone novels and three series: the critically acclaimed Enzo Files, featuring Scottish forensic scientist Enzo Macleod, set in France; the Lewis Trilogy (The Blackhouse, The Lewis Man, and The Chessman), all three volumes of which were internationally bestselling novels; and the award-winning China Thrillers, featuring Beijing detective Li Yan and American forensic pathologist Margaret Campbell.

One of Scotland's most prolific television dramatists, May garnered more than 1,000 credits over a decade and a half spent as scriptwriter and editor on prime-time British television. Before quitting TV to concentrate on writing novels, he was the creator of three major series, two of which were the highest rated in Scotland. May lives and writes in France.

Praise For…
---
"Chilling and ingenious."
—
Scotland on Sunday

"
The Killing Room
is a provocative, stomach-churning suspense-filled forensic thriller that enhances Peter May's growing reputation as a skilled storyteller who knows how to serve up vivid narratives, romantic adventures, compelling characterizations, riveting plots and intriguing views of modern-day China."
—
BookLoons
"The Killing Room
is a brisk, solidly plotted police procedural, with lots of gritty forensic details."—
Mystery Scene Magazine
"Li and Campbell's fine third case provides thrills, chills, and a window into current Chinese lifestyles."—
Kirkus Reviews
"Rewarding . . . May offers a little politics, a little romance, and a lot of autopsy details."—
Publishers Weekly
"Margaret's expertise is made more use of in this book than hitherto, and those who like discoveries from the mortuary slab will find this outing particularly satisfying. The urgency to find the culprit, the frustrations of the task, and the romantic entanglements mean that, as with earlier books in the series, there is barely a dull moment as the book rushes to an exciting conclusion."—
Crime Review
Praise for Peter May
"Peter May is an author I'd follow to the ends of the earth."
—
Marilyn Stasio, The New York Times
"He is a terrific writer doing something different."—
Mark Billingham, bestselling author of the Tom Thorne series
"From the first page I knew I was in safe hands. I knew I could trust this writer."—
Sophie Hannah, bestselling writer of The Monogram Murders