The Nicotine Chronicles (Akashic Drug Chronicles) (Paperback)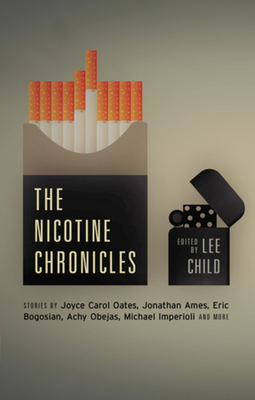 $15.95

Usually Ships in 1-5 Days
Description
---
Lee Child recruits Joyce Carol Oates, Jonathan Ames, Cara Black, and others to reveal nicotine's scintillating alter egos.
Typically for Akashic--publisher of the terrific Noir series--the stories approach the subject matter from an impressive number of angles...Akashic has yet to produce a dull anthology, and this one is especially good.
--Booklist
Sixteen tributes to America's guiltiest pleasure...Even confirmed anti-smokers will find something to savor.
--Kirkus Reviews
The most successful entries delve bone-deep into addiction, as characters smoke to smother physical pain, loneliness, and their days...These writers capture the mental gymnastics behind the characters' bad decisions, and the joy such bad decisions can bring.
--Publishers Weekly
In recent years, nicotine has become as verboten as many hard drugs. The literary styles in this volume are as varied as the moral quandaries herein, and the authors have successfully unleashed their incandescent imaginations on the subject matter, fashioning an immensely addictive collection.
Featuring brand-new stories by: Lee Child, Joyce Carol Oates, Jonathan Ames, Eric Bogosian, Achy Obejas, Michael Imperioli, Hannah Tinti, Ariel Gore, Bernice L. McFadden, Cara Black, Christopher Sorrentino, David L. Ulin, Jerry Stahl, Lauren Sanders, Peter Kimani, and Robert Arellano.
From the introduction by Lee Child:
Food scientists have discovered a complex compound naturally present in, among other things, potatoes, tomatoes, peppers, and eggplants. The compound offers us a number of benefits: it improves our fine motor skills; it increases our attention spans; it improves our cognitive abilities; it improves our long- and short-term memories; it lessens depression...In and of itself, it has no real downside. It's called nicotine. We should all get some.
The problem is the delivery system...The most efficient way is to burn dried tobacco leaves and inhale the smoke. Ten seconds later, the compound is in your brain, doing good in all its various ways. Unfortunately, the rest of the smoke doesn't do good. And therein lies a great mystery of human behavior. To get the good, we risk the bad. Or we prohibit ourselves the good, for fear of the bad. Which approach makes more sense?
About the Author
---
Lee Child was fired and out of work when he hatched a harebrained scheme to write a best-selling novel, thus saving his family from ruin. Killing Floor went on to launch the New York Times #1 best-selling Jack Reacher series with over 100 million books sold in forty-nine languages. Forbes calls it the strongest brand in publishing. The series has spawned two feature films and an upcoming Amazon Prime Video series.