The Last Unicorn (Hardcover)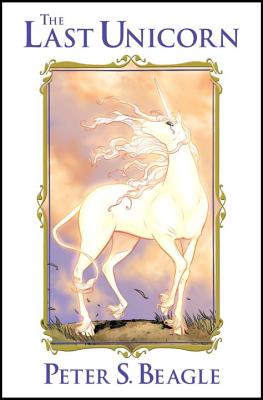 $24.99
Email or call for price.
Description
---
Whimsical. Lyrical. Poignant. Timeless. The first graphic novel adaptation of Peter S. Beagle's beloved fantasy classic.

The Last Unicorn is a tale for any age about the wonders of magic, the power of love, and the tragedy of loss. The unicorn, alone in her enchanted wood, learns that she may be the last of her kind. Reluctant at first, she sets out on a journey to discover the fate of her fellow unicorns, even if it means facing the terrifying anger of the Red Bull and the malignant evil of the king who wields its power. Along the way, she'll encounter a cast of unforgettable characters, including Schmendrick the magician, the bandit Molly Grue, the noble Prince Lir, and the occasional talking butterfly. Adapted by Peter B. Gillis and lushly illustrated by Renae De Liz and Ray Dillon, The Last Unicorn is simultaneously current and timeless in this new incarnation.
About the Author
---
Peter S. Beagle is a novelist, screenwriter, and poet, and an icon of fantasy fiction. He was born in New York City in 1939 and raised in the Bronx, surrounded by education and the arts. He published his first novel, A Fine and Private Place, at the age of nineteen. Subsequent works include the perennially poplular travelogue I See By My Outfit, his second novel and fantasy classic The Last Unicorn, and "Two Hearts," a Last Unicorn sequel that won both the Hugo and Nebula awards in 2006. Peter has also written hundreds of additional works, among them the screenplays for the animated adaptations of The Last Unicorn and The Lord of the Rings, an episode of Star Trek: The Next Generation, a libretto, and numerous short stories, songs, and poems. He lives in Oakland, California, where he continues to write. Peter B. Gillis is an American comic book writer best known for his work on Doctor Strange for Marvel Comics. His other works include Strikeforce: Morituri, also for Marvel; and Warp and Shatter, both for First Comics. Renae De Liz is a comic book artist best known for her work on IDW titles like Rogue Angel: Teller of Tall Tales and Servant of the Bones, both with her husband, Ray Dillon. She's also contributed to the Sonic the Hedgehog books from Archie Comics and worked, along with Ray, on DC Entertainment's The Legend of Wonder Woman.