The Far Side® After Hours 2021 Wall Calendar (Calendar)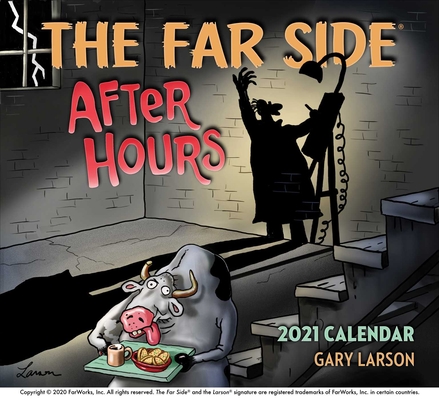 Description
---
The Far Side® After Hours 2021 Wall Calendar is ready to grace the world's vertical surfaces and includes never-before-seen artwork by bestselling cartoonist Gary Larson.

It's a universally acknowledged truth that the best things come in dozens: eggs, disciples, uhh . . . lots of other stuff. Now, thanks to The Far Side® After Hours 2021 Wall Calendar, you can enjoy twelve months of wickedly funny and brand-new TheFar Side® cartoons. Whether you're revisiting the irreverent genius of The Far Side®, sharing it with a new generation, or just signaling your intellectual superiority to coworkers, this has everything: nihilistic wildlife, mischievous aliens, and plenty—plenty—of chickens.

Copyright © 2020 FarWorks, Inc. All rights reserved. The Far Side® and the Larson® signature are registered trademarks of FarWorks, Inc. in certain countries.
About the Author
---
The Far Side was syndicated in more than 1,900 daily newspapers from 1980 to 1995, when Gary Larson retired. During its run, the cartoon spawned 22 books from AMP, which were translated into a total of 17 different languages. For his work with The Far Side, Larson was awarded the Reuben Award for Outstanding Cartoonist from the National Cartoonists Society in 1991 and 1994. The group also named The Far Side Best Syndicated Panel in both 1985 and 1987.