The Emperor (Telnarian Histories #5) (Paperback)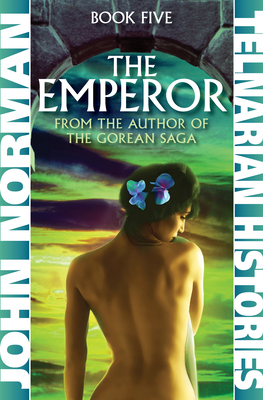 $27.99

Usually Ships in 1-5 Days
Other Books in Series
This is book number 5 in the Telnarian Histories series.
Description
---
The complexities and storms of the Telnarian Histories are brought to their unexpected and rousing climax. Following a palace coup, in the midst of intrigue and turmoil, Otto, the blond barbarian giant, King of the Otungs, a tribe of the Vandal Nation, has set aside the boy emperor, Aesilesius, and seized the throne of the vast, unstable, threatened Telnarian Empire. A raging torrent of complex, perilous events ensues. Can the throne be held? Can the empire survive? In The Emperor, we meet again fierce Abrogastes, the Far Grasper, lord of the Drisriaks, hegemonic tribe of the dreaded Aatii Nation, enemy to the Vandal Nation; his envious, treacherous son, Ingeld, aspirer to the High Seat of the Drisriaks; Sidonicus, devious, unscrupulous exarch of Telnar, seeker of power through the perversion of religion; envious Fulvius, his ambitious subordinate; a corrupt senate, an unruly citizenry, and private armies; Atalana, superstitious and cunning Empress Mother; her son, the reclusive boy emperor, Aesilesius; his lovely sisters, Alacida and Viviana, one of whom will learn chains and the whip; Julian, of the Aureliani, scion of an embittered and divided aristocracy; and many other players in the games of betrayal, blood, and power.
About the Author
---
John Norman, born in Chicago, Illinois, in 1931, is the creator of the Gorean Saga, the longest-running series of adventure novels in science fiction history. Starting in December 1966 with Tarnsman of Gor, the series was put on hold after its twenty-fifth installment, Magicians of Gor, in 1988, when DAW refused to publish its successor, Witness of Gor. After several unsuccessful attempts to find a trade publishing outlet, the series was brought back into print in 2001. Norman has also produced a separate, three-installment science fiction series, the Telnarian Histories, plus two other fiction works (Ghost Dance and Time Slave), a nonfiction paperback (Imaginative Sex), and a collection of thirty short stories, entitled Norman Invasions. The Totems of Abydos was published in spring 2012. All of Norman's work is available both in print and as ebooks. The Internet has proven to be a fertile ground for the imagination of Norman's ever-growing fan base, and at Gor Chronicles (www.gorchronicles.com), a website specially created for his tremendous fan following, one may read everything there is to know about this unique fictional culture. Norman is married and has three children.