The Hatching: A Novel (The Hatching Series #1) (Hardcover)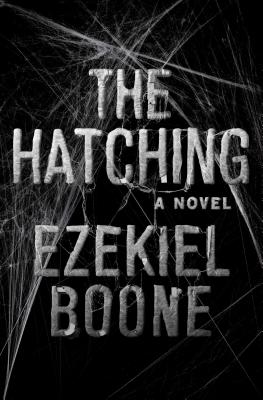 Other Books in Series
This is book number 1 in the The Hatching Series series.
Description
---
The International Bestseller

"An apocalyptic extravaganza of doom and heroism…addictive." —Publishers Weekly

"This is a fresh take on classic horror, thoroughly enjoyable and guaranteed to leave your skin crawling." —Michael Koryta, New York Times bestselling author of Those Who Wish Me Dead

"Guaranteed to do what Jaws did to millions of people." —Suspense Magazine

An astonishingly inventive and terrifying debut novel about the emergence of an ancient species, dormant for over a thousand years, and now on the march.

Deep in the jungle of Peru, where so much remains unknown, a black, skittering mass devours an American tourist whole. Thousands of miles away, an FBI agent investigates a fatal plane crash in Minneapolis and makes a gruesome discovery. Unusual seismic patterns register in a Kanpur, India earthquake lab, confounding the scientists there. During the same week, the Chinese government "accidentally" drops a nuclear bomb in an isolated region of its own country. As these incidents begin to sweep the globe, a mysterious package from South America arrives at a Washington, D.C. laboratory. Something wants out.

The world is on the brink of an apocalyptic disaster. An ancient species, long dormant, is now very much awake.
About the Author
---
Ezekiel Boone lives in upstate New York with his wife and children. He is the internationally bestselling author of The Hatching, Skitter, and Zero Day.
Praise For…
---
"It's an original plot, with a horrifying premise guaranteed to entertain and shock the reader…The Hatching is a page-turner."

"I can't remember reading a horror/apocalyptic novel that I enjoyed as much as this one. Seriously, it was phenomenal. I was deeply pleased that the ending sets up a sequel! Highly recommended."

"Guaranteed to do what Jaws did to millions of people."

"The Hatching was Arachnophobia meets 2012 meets Independence Day…Will I read book 2? Absolutely…with a rolled up newspaper and thick soled shoes!"

"You know those people who claim spiders are more afraid of us than we are of them? When it comes to The Hatching, they lied. Great gory fun - and creepy, in every sense of the word..."
— John Connolly, #1 Internationally Bestselling Author

"This novel should come with a warning label: The Hatching is scary as hell. And addictively fun."
— Benjamin Percy, critically acclaimed author of THE DEAD LANDS, RED MOON, and THE WILDING

"The Hatching is a hair-raising thriller that reads like the lovechild of Independence Day and World War Z, but is creepier than both....Every once in a while something comes along that everyone will be talking about. This will be one of those books!"

"An apocalyptic extravaganza of doom and heroism…addictive."

"It's been too long since someone reminded us that spiders are not just to be feared, but also may well spell doom for mankind. Fortunately, Ezekiel Boone has upped the ante on arachnophobia. This is a fresh take on classic horror, thoroughly enjoyable and guaranteed to leave your skin crawling."
— Michael Koryta, New York Times best selling author of THOSE WHO WISH ME DEAD

"I do not like spiders at all, so The Hatching by Ezekiel Boone was a must read for me…This debut novel rocked my socks off and then made me put them back on...quickly ...and my shoes too."

"What Peter Benchley did for sharks, James Herbert did for rats and Michael Crichton did for dinosaurs, Ezekiel Boone does for those eight-legged freaks that lurk in dark corners of our houses. The Hatching is a full-throttle pulse-pounder that will keep you up all night feverishly flipping its pages--and make you check for webs spun under your bed before you reluctantly turn off the lights."
— Nick Cutter, author of The Troop and The Deep

"The Hatching is old school global plague horror of the freakiest sort. A deft and nasty thriller."
— Andrew Pyper, author of The Damned and The Demonologist

"Prepare to be terrified . . . . Hair-raising"

"The Hatching takes an impressively terrible doomsday scenario and adds spiders, making it one of the creepiest books of all time."

"Peter Benchley (with an assist from Spielberg) scared everyone out of the water with Jaws. Hitchcock showed us how terrifying birds can be. Michael Crichton's Congo went overboard on gorillas . . . Add Boone to the list. He has given everyone more reason to fear spiders."

"Guys, this book is TERRIFYING. I felt incredibly itchy while reading it, and snuck constant furtive glances at the corners of my room in case a carnivorous spider decided to show up. This is not for the faint of heart"

"The Hatching is a totally different twist on of the end of the world. We don't have to worry about zombies, werewolves or vampires. Oh no…no, no, no... The Hatching is an arachnophobian worst nightmare!!!! Seriously, you have been warned!!!"

"A rip-roaring horror thrill ride ... Not for the faint-hearted…and even die-hard horror fans may find themselves checking for webs after this creepy chiller."

"A fun and suspense-filled 5-star read that keeps you on the edge of your seat. Highly recommended!"

"This is a creepy, crazy book that will have you thinking twice the next time you see a spider and definitely will have you FREAKING OUT if you happen to have one crawling on you!"

"Mello & June gives The Hatching five stars plus eight legs. What an incredible story…This is going to be one of those stories we'll most likely see at the movies keeping moviegoers squirming and shrieking for all their worth."

"Those that love good horror and science fiction should snap this book up right away… you'll never see a spider web in quite the same way once you've read it!"

"Boone's masterful writing and balancing plot kept me going even when I wanted to curl up under my covers and hide. Thoroughly enjoyable."

"The Hatching was creepy crawly twisty fun that I don't recommend reading before bed (unless you don't need a full night's of rest)! It is a little horror, little outbreak, and whole lot of 'OMG please say NOTHING is crawling on me.' SPIDER APOCALYPSE is coming at ya!"

"Ezekiel Boone's debut novel brings an epic apocalyptic horror worthy of summer blockbuster proportions."

"I recommend this to any fan of 'nature running amok' stories who doesn't mind graphically gruesome scenes."

"Oh, this was such a great summer read -- totally creepy but just so well done."

"The Hatching is terrifying and compulsively readable . . . Boone, like King and Brooks before him, is a man who recognizes the journey can be as terrifying as the destination."

"Ever have a book call to you? Like you know when you first see it, you have to read it? That's kind of what happened with The Hatching."

"Set up as the first in a series, I can't wait to read the next title. It captivates you from the start, the pacing continuing, evenly, throughout . . . All in all, a genuinely fun/terrifying read."

"I couldn't resist this book. Over eight weeks, I kept looking at it, reading the description on Goodreads, visiting the website. I even exchanged a few tweets with the author, who was funny and encouraging, by the way. I finally gave in and started the book. And I couldn't put it down. I stayed up all night in order to finish The Hatching, and not just because I was completely terrified."

"The Hatching has all the hallmarks of a summer blockbuster read. It's quick and packed with tension and action, and of course killer spiders. Monstrous and gory killer spiders."

"I am a huge fan of 'cast' or ensemble novels with multiple characters. Boone excels at this in The Hatching. Each set of characters—from political, military, agents and scientists trying to understand and contain the spiders, to preppers in the Californian desert, and across the world to China, Afghanistan, India, and Scotland—all bring wildly different points of view and pieces of the plot to The Hatching. The Hatching was a great, fun, squirmy read. A hugely entertaining read and it's got movie written all over it."

"I love apocalyptic stories so I was absolutely thrilled when I started reading it to see that the spiders were weaved into an apocalyptic disaster story! It was so much more than I was hoping for. I can't wait for the next book, Skitter, to come out. I'm dying to hear how the story progresses. 5 spider stars for Mr. Boone!"

"Was this book scary? F**k yes! I'm still cringing just thinking about it. [It] didn't help that two days before I read this book, a big f*****g black spider decided he wanted to make a home in my sky box and I still haven't found him! So yes, this book is very scary and will totally give you a fast pace of a scary crawly ride."

"The Hatching was the creepy-crawliest book I have read in a long time."

"World on the brink of madness? Sure. Ancient evil awakening in the form of terrifying spiders? Even better. This novel does a great job balancing the exciting thriller aspects with the skin-crawling horror."

"Fast-paced and downright terrifying."

"The freakish nature of the fear factor and carnage within the story makes this novel a wonderful addition to the horror-monster genre."

"Within my little corner of horrors, I have a small club of authors who are my A-listers. They're the upper echelon of "must read everything they write as soon as I can get my hands on it" talent I've placed above all others. Stephen King, Dean Koontz and Justin Cronin make up the entire membership list. Despite reading a wide range of authors--both self- and traditionally published--I haven't really come across anyone who's been able to make a serious run at joining my top tier. Until now."