Blacklands: A Novel (Paperback)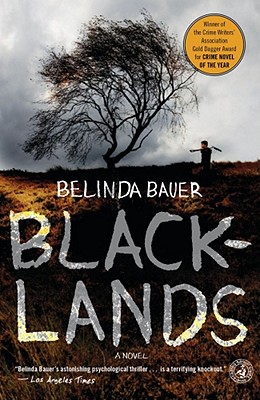 $16.99

Usually Ships in 1-5 Days
Description
---
A taut and chillingly atmospheric debut that signals the arrival of a bright new voice in psychological suspense and "a brilliant analysis of an exceedingly twisted mind" (Chicago Tribune).

Eighteen years ago, Billy Peters disappeared. Everyone in town believes Billy was murdered—after all, serial killer Arnold Avery later admitted killing six other children and burying them on the same desolate moor that surrounds their small English village. Only Billy's mother is convinced he is alive. She still stands lonely guard at the front window of her home, waiting for her son to return, while her remaining family fragments around her.

But her twelve-year-old grandson Steven is determined to heal the cracks that gape between his nan, his mother, his brother, and himself. Steven desperately wants to bring his family closure, and if that means personally finding his uncle's corpse, he'll do it.

Spending his spare time digging holes all over the moor in the hope of turning up a body is a long shot, but at least it gives his life purpose.

Then at school, when the lesson turns to letter writing, Steven has a flash of inspiration...

Careful to hide his identity, he secretly pens a letter to Avery in jail asking for help in finding the body of "W.P."—William "Billy" Peters. So begins a dangerous cat-and-mouse game.

Just as Steven tries to use Avery to pinpoint the gravesite, so Avery misdirects and teases his mysterious correspondent in order to relive his heinous crimes. And when Avery finally realizes that the letters he's receiving are from a twelve-year-old boy, suddenly his life has purpose too.

Although his is far more dangerous...
About the Author
---
Belinda Bauer grew up in England and South Africa. She has worked as a journalist and screenwriter, and her script The Locker Room earned her the Carl Foreman/Bafta Award for Young British Screenwriters, an award that was presented to her by Sidney Poitier. She was a runner-up in the Rhys Davies Short Story Competition for "Mysterious Ways," about a girl stranded on a desert island with 30,000 Bibles. Belinda now lives in Wales. Her latest novel, Snap, was longlisted for the Man Booker Prize.
Praise For…
---
"Blacklands is leading the pack of profound new mysteries. . . . Atmospheric . . . . bewitching . . . . a brilliant analysis of an exceedingly twisted mind."
—Chicago Tribune

"Bauer's ability to shift between the perspective of a 12-year-old boy and a middle-age serial killer is brilliant and frightening all at once. . . . [her] debut novel promises to be the first of many good reads."
—The Post and Courier (Charleston, SC)