Yesterday (Paperback)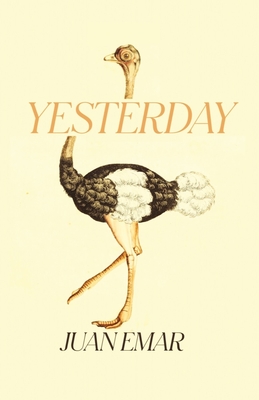 Description
---
For the first time in English, a mind-bending, surreal masterpiece by "the forerunner of them all" (Pablo Neruda)
In the city of San Agustín de Tango, the banal is hard to tell from the bizarre. In a single day, a man is guillotined for preaching the intellectual pleasures of sex; an ostrich in a zoo, reversing roles, devours a lion; and a man, while urinating, goes bungee jumping through time itself—and manages to escape. Or does he? Witness the weird machinery of
Yesterday
, where the Chilean master Juan Emar deploys irony, digression, and giddy repetitions to ratchet up narrative tension again and again and again, in this thrilling whirlwind of the ecstatically unexpected—all wed to the happiest marriage of any novel, ever.
Born in Chile at the tail end of the nineteenth century, Juan Emar was largely overlooked during his lifetime, and lived in self-imposed exile from the literary circles of his day. A cult of Emarians, however, always persisted, and after several rediscoveries in the Spanish-speaking world, he is finally getting his international due with the English-language debut of Yesterday, deftly translated by Megan McDowell. Emar's work offers unique and delirious pleasures, and will be an epiphany to anglophone readers.
About the Author
---
Juan Emar is the pen name of Chilean writer, painter, and art critic Álvaro Yánez Bianchi. Born in Chile in 1893, he was a strong advocate of the artistic avant-garde of the 1920s and 30s, and his critical writings helped revolutionize the art scene in his country. Under-appreciated in his time, he is now considered to be one of the most important 20th-century Latin American writers.

Megan McDowell lives in Santiago, Chile. She has translated many of the most important contemporary Spanish language authors, including Alejandro Zambra, Samanta Schweblin, Mariana Enríquez, and Lina Meruane. She has been nominated four times for the International Booker Prize, and was the recipient of a 2020 Award in Literature from the American Academy of Arts and Letters.

The work of novelist, poet, short-story writer, and literary critic Alejandro Zambra (Santiago, 1975) has been translated into 20 languages, and his writing has appeared in The New Yorker, The Paris Review, Harper's, McSweeney's, Tin House and The Believer. Among his numerous literary awards are The Chilean Circle of Art Critics Best Novel Prize for Chilean Poet in 2020, and the 2013 English PEN Award for Ways of Going Home. He was included in the "Bogotá39" list of the best Latin American writers under 39 years old, and in Granta's list of the best Spanish-language writers under 35. He lives in Mexico City.
Praise For…
---
The forerunner of them all.
— Pablo Neruda

Juan Emar, the Chilean writer who bears a marked resemblance to the monument to the unknown soldier.
— Roberto Bolaño

Emar has no precedents, and no equals.
— César Aira

Juan Emar, ahead of his time, was no doubt writing for readers of the future, and it's as arrogant as it is exciting to suppose that those readers of the future are us.
— Alejandro Zambra

And there you had the madman Juan Emar writing the real Chilean prose. We have to start with him, even if nobody has read him.
— Alejandro Jodorowsky