Pillar to the Sky: A Novel (Paperback)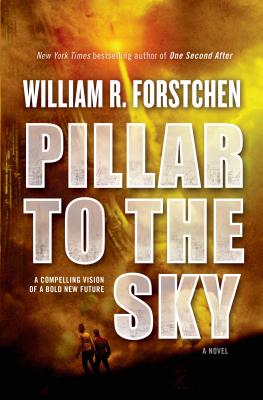 $15.99
Email or call for price.
Description
---
In One Second After, William R. Forstchen stunned readers with an all-too-plausible doomsday scenario. In Pillar to the Sky¸ he offers to answer another. Pandemic drought, skyrocketing oil prices, dwindling energy supplies, and wars of water scarcity threaten the planet.

Four people are key, but they are surrounded by enemies at every turn—oil-rich nations and the ruthless transnational petrol firms which feed off of them, corrupt but influential politicians and ideological fanatics who see the tower as an assault on God.

Eva Morgan—a brilliant and beautiful scientist of Ukrainian descent, she has had a lifelong obsession to build a pillar to the sky, a vertiginous tower which that would mine the power of the sun and supply humanity with cheap, limitless energy forever.

Gary Morgan—a man who has shared her quest from the beginning and struggled with her every step of the way. He sees the pillar as nothing less than earth's salvation and humanity's last chance.

Victoria—their fierce fiery daughter, she is as stunningly attractive and ferociously intelligent as her mother. To her, the project is life-or-death, and she will do anything to make it work.

Jason Fitzhugh—his passion for Victoria is as relentless as his dedication to her dream. He will risk life and court death for the pillar—and for the woman he loves.

Franklin Smith—a powerful, aging billionaire, who has risen from the poverty-stricken world of the segregated south to wealthy beyond dreams, is imbued with an overpowering vision . . . to save the human race from itself and to set the world on a course toward the stars. Seeing the pillar as his own personal destiny, he will spend every cent, pressure every friend, and destroy every opponent to make it a success.

Smith and the Morgan family are on a mission to build a pillar to the sky and to the stars beyond. But their foes will stop at nothing to topple the tower and profit off its wreckage—even if it means global war.
About the Author
---
William R. Forstchen is the author of the New York Times bestseller One Second After and We Look Like Men of War, among numerous other books in diverse subjects ranging from history to science fiction. He has co-authored several books with Newt Gingrich, including Gettysburg: A Novel of the Civil War, Pearl Harbor, Days of Infamy, To Try Men's Souls and Valley Forge. Forstchen holds a Ph.D. in History from Purdue University, with specializations in military history and the history of technology. He is currently a Faculty Fellow and Professor of History at Montreat College, near Asheville North Carolina. He is a pilot and flies an original WWII recon "warbird." He resides near Asheville with his daughter Meghan.
Praise For…
---
"A riveting cautionary tale." —Booklist on One Second After

"An entertaining apocalyptic thriller." —Publishers Weekly on One Second After

"Good storytelling consists very simply of creating characters so believable that the reader forms a deep bond. Forstchen did such a damned fine job with One Second After that shortly after the first page, I had been reeled in hook, line, and sinker." —David Hagberg, New York Times bestselling author of The Expediter on One Second After