Corsair (The Oregon Files #6) (Paperback)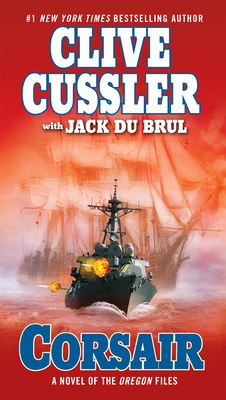 Other Books in Series
This is book number 6 in the The Oregon Files series.
Description
---
Ex-CIA ship captain Juan Cabrillo leads the crew of the Oregon on a quest to save a kidnapped politician in this adventure in the #1 New York Times-bestselling series.

Corsairs are pirates, and pirates come in many different varieties. There are the pirates who fought off the Barbary Coast in the late eighteenth and early nineteenth centuries, the contemporary pirates who infest the waters of Africa and Asia, and the pirates...who look like something else.

When the U.S. secretary of state's plane crashes while bringing her to a summit meeting in Libya, the CIA, distrusting the Libyans, hire Juan Cabrillo to search for her, and their misgivings are well founded. The crew locates the plane, but the secretary of state has vanished. It turns out Libya's new foreign minister has other plans for the conference, plans that Cabrillo cannot let happen. But what does it all have to do with a two- hundred- year-old naval battle and the centuries-old Islamic scrolls that the Libyans seem so determined to find? The answers will lead him full circle into history, and into another pitched battle on the sea, this time against Islamic terrorists, and with the fate of nations resting on its outcome.
About the Author
---
Clive Cussler is the author of more than fifty books in five bestselling series, including Dirk Pitt, NUMA Files, Oregon Files, Isaac Bell, and Fargo. His life nearly parallels that of his hero Dirk Pitt. Whether searching for lost aircraft or leading expeditions to find famous shipwrecks, he and his NUMA crew of volunteers have discovered more than seventy-five lost ships of historic significance, including the long-lost Confederate submarine Hunley, which was raised in 2000 with much press publicity. Like Pitt, Cussler collects classic automobiles. His collection features more than eighty examples of custom coachwork. Cussler lives in Arizona and Colorado.

Jack Du Brul is a graduate of the Westminster School and George Washington University. Du Brul has climbed Masada at noon, swam in the Arctic Ocean off Point Barrow, explored war-torn Eritrea, camped in Greenland, and been gnawed on by piranhas in the Amazon River. He lives in Burlington, Vermont.