Dark Watch (The Oregon Files #3) (Paperback)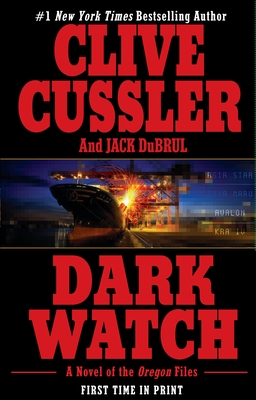 $16.00
Usually Ships in 1-5 Days
Other Books in Series
This is book number 3 in the The Oregon Files series.
Description
---
Juan Cabrillo and his crew aboard the Oregon take on modern-day pirates for a surprising new client in this novel in the #1 New York Times-bestselling series. 

Cabrillo and his motley crew aboard the clandestine spy ship Oregon have made a very comfortable and very dangerous living working for high-powered Western interests. But their newest clients have come from the Far East to ask for Cabrillo's special brand of assistance: a consortium of Japanese shipping magnates whose fortunes are being threatened by brutal pirates trolling the waters of Southeast Asia.

Normally, such attacks on the high seas are limited to smaller ships and foreign-owned yachts-easy targets on the open ocean. Now, however, giant commercial freighters are disappearing. But when Cabrillo confronts the enemy, he learns that the pirates' predations hide a deadly international conspiracy-a scheme of death and slavery that Juan Cabrillo is going to blow out of the water.
About the Author
---
Clive Cussler is the author of many New York Times bestsellers, most recently The Spy and Lost Empire. He lives in Arizona.
Jack Du Brul is a graduate of the Westminster School and George Washington University. Trying to add as much adventure to his life as he does to his novels, Du Brul has climbed Masada at noon, swam in the Arctic Ocean off Point Barrow, explored war-torn Eritrea, camped in Greenland, and was gnawed on by piranhas in the Amazon River. He collects zeppelin memorabilia and when not writing or traveling (25 countries and counting), he can be found in a favorite chair with a book and a brandy. Jack Du Brul lives in Burlington, Vermont.