Christ the Lord: Out of Egypt: A Novel (Mass Market)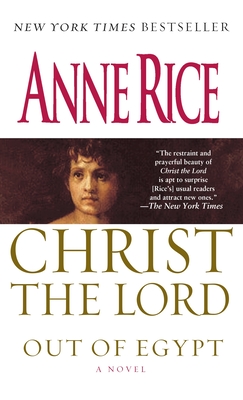 Description
---
Having completed the two cycles of legend to which she has devoted her career so far, Anne Rice gives us now her most thoughtful and powerful book, a novel about the childhood of Christ the Lord based on the gospels and on the most respected New Testament scholarship.

The book's power derives from the passion its author brings to the writing, and the way in which she summons up the voice, the presence, the words of the young Jesus who tells the story.
About the Author
---
Anne Rice is the author of twenty-six books. She lives in La Jolla, California.
Praise For…
---
Praise for Christ the Lord

"Riveting. . . . Rice's book is a triumph of tone -- her prose lean, lyrical, vivid -- and character. As he ponders his staggering responsibility, the boy is fully believable -- and yet there's something in his supernatural empathy and blazing intelligence that conveys the wondrousness of a boy like no other. . . . With this novel, she has indeed found a convincing version of him; this is fiction that transcends story and instead qualifies as an act of faith. Joins Nikos Kazantzakis's The Last Temptation of Christ and Endo's A Life of Jesus as one of the bolder re-tellings."
—Kirkus Reviews (starred)


Praise for Blood Canticle

"When Anne Rice releases a new book in The Vampire Chronicles series, cheers from her huge fan base can be heard everywhere."
—The Edmonton Journal