The Revisionists (Paperback)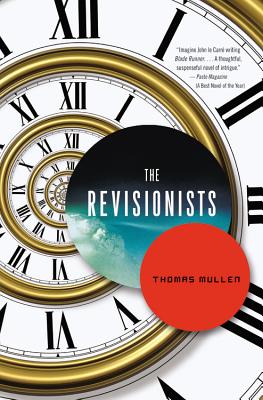 $15.99

Usually Ships in 1-5 Days
Description
---
A fast-paced literary thriller that recalls dystopian classics such as 1984 and Fahrenheit 451, from the award-winning author of The Last Town on Earth.

Zed is an agent from the future. A time when the world's problems have been solved. No hunger. No war. No despair.

His mission is to keep it that way. Even if it means ensuring every cataclysm throughout history runs its course-especially The Great Conflagration, an imminent disaster in our own time that Zed has been ordered to protect at all costs.

Zed's mission will disrupt the lives of a disgraced former CIA agent; a young Washington lawyer grieving over the loss of her brother, a soldier in Iraq; the oppressed employee of a foreign diplomat; and countless others. But will he finish his final mission before the present takes precedence over a perfect future? One that may have more cracks than he realizes?

The Revisionists puts a fresh spin on today's global crises, playing with the nature of history and our own role in shaping it. It firmly establishes Mullen as one of the most exciting and imaginative writers of his generation.
About the Author
---
Thomas Mullen is the author of The Last Town on Earth, which was named Best Debut Novel of 2006 by USA Today and was awarded the James Fenimore Cooper Prize for excellence in historical fiction, and The Many Deaths of the Firefly Brothers. His books have been named Best of the Year by such publications as the Chicago Tribune, USA Today, the Atlanta Journal-Constitution, The Onion, and Amazon.com. He lives with his wife and sons in Atlanta.
Praise For…
---
"An extraordinary trip to the near future ... Questions of fate versus free will, utopia versus reality, and the implications of a world without racial and ethnic lines add terrific human depth to the whiz-bang gadegtry of Mullen's imagined world ... a very high-brow spin on the spy novel and science fiction."
—
Atlanta Magazine
"
Blade Runner
meets John le Carré....a thoughtful, suspenseful novel of intrigue."—
Paste Magazine (A Best Novel of the Year)
"An imaginative, elegant work of literary sci-fi, set in modern-day Washington, D.C....What transpires in the final act is as powerful for its well-paced revelations as it is for the ethical questions it raises."
—
Los Angeles Magazine
"A grippingly readable book, creating a kaleidoscopic world where the reader's sense of what's going on changes with every chapter ... thrills grounded in intelligence and compassion."
—
The Columbus Dispatch
"Provocative... relentless...Mullen delivers."
—
The Tampa Tribune
"Mullen is a skilled storyteller ... [THE REVISIONISTS is] much more than a page-turning techno-thriller. It also serves as a vehicle for .. an indictment of avoidable human folly leading to wars year after year, decade after decade, century after century."
—
The Atlanta Journal-Constitution
"
The Revisionists
is a devious and absorbing novel that challenges the reader at every turn, not letting up until the final pages. I loved it."—
Olen Steinhauer, author of the New York Times bestsellers The Tourist and Nearest Exit
"Sharp as razors, savage and immense in its power and weird beauty."
—
Warren Ellis, author of RED, Crooked Little Vein, and Transmetropolitan
"Mullen explores the ethical implications of time travel in this excellent thriller set in the near future...The complex concatenation of events that follows make this book a one-sitting read despite its length."
—
Publishers Weekly (starred review)
"This well-written cross-genre book is a great reading experience. As told from multiple points of view from four fully developed characters, the engaging plot and ultimate resolution will leave you still thinking about the possibilities long after you turn the last page. THE REVISIONISTS will appeal to readers who like smart literate works in any genre-it's a contemporary thriller with a science fiction vibe, written by an author known for literary fiction."
—
San Diego Union-Tribune (a Best Novel of theYear)
"An outstanding dystopic novel."
—
Library Journal
"[An] intriguing thriller [that] serves up a heaping helping of paranoia."
—
Booklist
"A tightly woven, deeply layered look at war, love, sacrifice, and loss."
—
Julianna Baggott, author of Pure
"Such a unique, original story could only come from a unique, original mind--Thomas Mullen's."
—
Alex Tse, co-screenwriter of Watchmen
"A peek at a future that is both exciting and terrifying."
—
Brian Wood, Eisner Award-nominated author of Channel Zero, Demo, and DMZ