My French Whore: A Love Story (Paperback)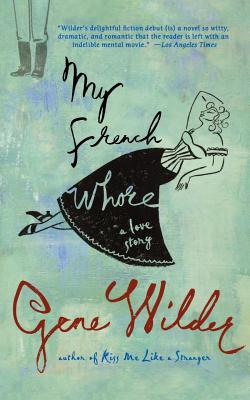 $18.99

Usually Ships in 1-5 Days
Description
---
The beloved actor and screenwriter Gene Wilder's first novel, My French Whore, set during World War I, delicately and elegantly explores a most unusual romance. It's almost the end of the war and Paul Peachy, a young railway employee and amateur actor in Milwaukee, realizes his marriage is one-sided. He enlists, and ships off to France. Peachy instantly realizes how out of his depth he is—and never more so than when he is captured. Risking everything, Peachy—who as a child of immigrants speaks German—makes the reckless decision to impersonate one of the enemy's most famous spies.

As the urbane and accomplished spy Harry Stroller, Peachy has access to a world he could never have known existed—a world of sumptuous living, world-weary men, and available women. But when one of those women—Annie, a young, beautiful and wary courtesan—turns out to be more than she seems, Peachy's life is transformed forever.
About the Author
---
Gene Wilder (1933-2016) began acting when he was thirteen and writing for the screen in the early 1970s. After a small role in "Bonnie and Clyde" pulled him away from a career onstage, he was nominated for an Academy Award as Best Supporting Actor for his role as Leo Bloom in "The Producers", which led to "Blazing Saddles" and then to another Academy nomination, this time for writing "Young Frankenstein". Wilder appeared in twenty-five feature films and a number of stage productions. His first book, about his own life, was Kiss Me Like A Stranger. It was followed by the novels My French Whore, The Woman Who Wouldn't, and Something to Remember You By and a book of stories, What Is This Thing Called Love?.
Praise For…
---
"Gene Wilder has written a remarkable period piece. It's an elegantly woven story of intrigue, danger, sex and comedy –but for me the big surprise is that it's a truly moving and eloquent love story." —Mel Brooks

"A…touching debut novel…(it) takes the form of the final, eloquent notebook of a man still finding out who he is." —Publishers Weekly

"Slender…nimble…satisfying." —Kirkus Reviews

"It's unavoidable: the hero of MY FRENCH WHORE simply must be imagined as a young Gene Wilder. The talented actor who wrote this enjoyable novella…makes an easy transition from stage to page." —The Seattle Times

"Sweet fluff. If you loved 'Young Frankenstein,' you'll be awfully fond of this." —The Washington Post

"Wilder's delightful fiction debut (is) a novel so witty, dramatic and romantic that the reader is left with an indelible mental movie." —Los Angeles Times