Winterkill: A Novel (Paperback)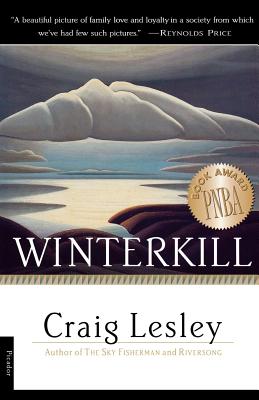 $23.00

Usually Ships in 1-5 Days
Description
---
Winner of the Pacific Northwest Booksellers Association Book Award

From the two-time winner of the Pacific Northwest Booksellers Association Award: a deeply moving and evocative novel of fathers and sons. Danny Kachiah is a Native American fighting not to become a casualty. His father, Red Shirt, is dead; his wife, Loxie, has left him, and his career as a rodeo cowboy is flagging. But when Loxie dies in a car wreck, leaving him with his son, Jack, whom he hardly knows, Danny uses the magnificent stories of Red Shirt to guide him toward true fatherhood. Together, Danny and Jack begin to make a life from the dreams of yesterday and the ruins of today's northwestern reservations.
About the Author
---
CRAIG LESLEY received the Pacific Northwest Booksellers Award for The Sky Fisherman, Winterkill, and Talking Leaves. He teaches at Portland State University in Portland, Oregon, where he lives with his wife and two daughters.
Praise For…
---
"Unforgettable . . . prose as clear as the morning air." —The Boston Globe

"What strikes me first about Craig Lesley's book is the astonishing compassion he extends to the characters that people this moving novel . . . An impressive debut." —Raymond Carver

"Profoundly lyrical . . . Lesley has a rare gift for evoking a timeless quality in a setting littered with modern icons . . . The honky-tonk glitter of the rodeo gives way to the mystical, sometimes brutal beauty of the wilderness." —The Cleveland Plain Dealer

"Danny Kachiah remains a figure of complexity, struggling toward salvation . . . an everyman who could stand in for any one of us." —The Los Angeles Times

"A beautiful picture of family love and loyalty in a society from which we've had few such pictures." —Reynolds Price