The Casebook of Victor Frankenstein: A Novel (Paperback)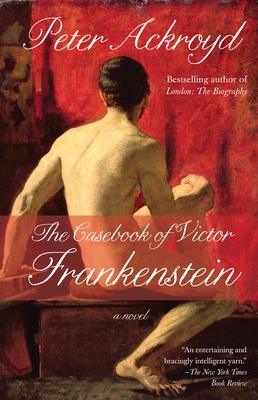 December 2009 Indie Next List
---
"Peter Ackroyd's latest work is part historical novel, part mystery, part dark fantasy (or science fiction). It's a book that rewards close reading and even though I half-suspected the ending, a highly successful pastiche of a classic novel that I would enjoy reading in tandem with the original."
— Billie J Bloebaum, Powell's Books, Inc, Portland, OR
Description
---
A New York Times Notable Book and
Providence Journal Best Book of the Year
From the incomparable Peter Ackroyd: a brilliant re-imagination of the classic tale that has enthralled readers for nearly two centuries.
 
Victor Frankenstein, a researcher, and the poet Percy Bysshe Shelley form an unlikely friendship as first-years at Oxford. Shelley challenges the conventionally religious Frankenstein to consider his atheistic notions of creation and life—concepts that become an obsession for the young scientist. As Victor begins conducting anatomical experiments to reanimate the dead, he at first uses corpses supplied by the coroner. But these specimens prove imperfect for Victor's purposes…
 
Filled with the literary lights of the day, including Percy Shelley, Godwin, Lord Byron, and Mary Shelley herself, and penned in period-perfect voice, The Casebook of Victor Frankenstein is sure to become a classic of the twenty-first century.
About the Author
---
Peter Ackroyd is a master of the historical novel: The Last Testament of Oscar Wilde won the Somerset Maugham Award; Hawksmoor was awarded both the Whitbread Novel of the Year and the Guardian Fiction Prize; and Chatterton was short-listed for the Booker Prize. His most recent historical novel is The Fall of Troy. He is also the author of London: The Biography, Shakespeare: The Biography, Thames: The Biography, and Ackroyd's Brief Lives series.
Praise For…
---
"An entertaining and bracingly intelligent yarn." —The New York Times Book Review

"Most satisfying. . . . This fast-paced, most readable novel is charged with electricity and enchanting mischief." —The Los Angeles Times

"A rousing page turner. From its opening . . . to its last, gasp-inducing page, Ackroyd has imbued his book with enough 'electrical fluid' to animate a corpse." —The Boston Globe
 
"[The Casebook of Victor Frankenstein] will enhance your knowledge of the original version, and it may give you nightmares. . . . A tale told again and again, it still casts a spell." —The Seattle Times
 
"The novel has a subtle texture, swift prose, and the author's customary panache. . . . Ackroyd offers some tasty literary, biographical, historical and geographical snacks. . . . Casebook is partly about narrative itself, about points of view and the protean nature of truth." —The Plain Dealer
 
"A tribute to one of the great Gothic stories of all time. . . . [A] surprise ending . . . makes the reader reconsider the entire plot. It's a fascinating twist, updating the Frankenstein legend with a spritz of Freud." —The Dallas Morning News
 
"Acclaimed novelist and biographer Ackroyd has reimagined Shelley's book—and incorporated some real-life characters into the retelling. . . . It's not until the final pages of the novel that we learn the disturbing truth behind the experiments." —The New York Post
 
"Finely done. . . . With a few spooky grace notes." —Austin American-Statesman
 
"A modern retelling that intelligently restores the story's relevance. . . . It's the meaningfulness that Ackroyd has brought back to life that matters." —San-Antonio Express News
 
"Ackroyd's writing style and attention to detail complements Mary Shelley's classic novel and fuels an utterly believable vision. . . . This captivating tale would work in its own right, or read as a companion piece to amplify the themes and questions raised in Shelley's." —Newark Star-Ledger
 
"Thrilling. . . . Mary Shelley's Frankenstein gets a revamp with Ackroyd's new work." —Northern Virginia Magazine
 
"Explosive. . . . Richly chronicled. . . . Percy Bysshe Shelley pulses with vitality and idealism and creation."  —Bookreporter.com
 
"Ackroyd loves taking what we, the general reading public, think we know about great writers, only to twist that knowledge into new fictional shapes. . . He is the great pretzel-baker of contemporary fiction. And this is one of his tastiest, and twistiest, products so far." —Financial Times [UK]
 
"A brilliant jeu d'esprit. . . . Fiendishly clever. . . . The background is meticulously researched, with fascinating incidental detail." —Daily Telegraph [UK]
 
"Peter Akcroyd's new novel works on so many levels, it's difficult to know where to begin. As pacy thriller, it delivers assured, edge-of-seat, action. As historical fiction, it abounds in authentic detail. . . . As homage to Mary Shelley's Frankenstein, it brings both invention and wit." —London Evening Standard [UK]