Man of War: An Eric Steele Novel (Large Print / Paperback)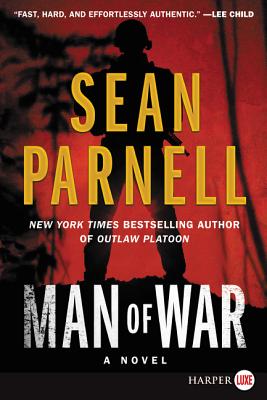 $27.99

Usually Ships in 1-5 Days
Other Books in Series
This is book number 1 in the Eric Steele series.
Description
---
"Fast, hard, and effortlessly authentic—both lead character Eric Steele and author Sean Parnell are the real deal."—Lee Child
"An exciting, action-packed debut! Bristling with intrigue, deceit, power, and treason—once you pick this book up, you will NOT be able to put it down. Sean Parnell has knocked it out of the park!"—Brad Thor
The New York Times bestselling author of Outlaw Platoon makes his fiction debut with this electrifying military thriller—a gripping tale of action, suspense, and international intrigue that introduces a compelling new hero, Eric Steele.
Eric Steele is the best of the best—an Alpha—an elite clandestine operative assigned to a US intelligence unit known simply as the "Program." A superbly trained Special Forces soldier who served several tours fighting radical Islamic militants in Afghanistan, Steele now operates under the radar, using a deadly combination of espionage and brute strength to root out his enemies and neutralize them.
But when a man from Steele's past attacks a military convoy and steals a nuclear weapon, Steele and his superiors at the White House are blindsided. Moving from Washington, DC, to the Middle East, Europe, and Africa, Steele must use his considerable skills to hunt this rogue agent, a former brother-in-arms who might have been a friend, and find the WMD before it can reach the United States—and the world is forever changed.
About the Author
---
Sean Parnell is a former U.S. Army airborne ranger who served in the legendary 10th Mountain Division for six years, retiring as a captain. He received two Bronze Stars (one for valor) and the Purple Heart. He is a passionate supporter of America's military and is currently serving as an ambassador for the Boot Campaign, a national veteran's charity. He lives with his three children in Pittsburgh, Pennsylvania.
Praise For…
---
"Bristling with intrigue, deceit, power and treason—once you pick this book up, you will NOT be able to put it down."
— Brad Thor #1 New York Times bestselling author of Spymaster

"A completely gripping story."
— Clive Cussler, New York Times bestselling author

"Setting, dialogue, and details create the ideal backdrop for the tension and intensity...  It's a marvelous debut from a talented writer to keep a watch on."
— Steve Berry, author of The Last Order

"A definite winner... In developing his plot and main character, Parnell writes like a veteran… The main story line here, involving friends turned mortal enemies, is a grabber and will certainly please fans of Brad Thor, Brad Taylor, and Vince Flynn."
— Booklist (starred review)

"Parnell brings his combat experience as a U.S. Army infantry officer in Afghanistan to his impressive first novel and series launch (after memoir Outlaw Platoon)… Thriller fans will be eager to see more of Steele."
— Publishers Weekly

"Fast, hard, and effortlessly authentic—both lead character Eric Steele and author Sean Parnell are the real deal."
— Lee Child, author of The Midnight Line

"Man of War is a breakneck-speed thriller with enough action and combat to satisfy any reader.  Eric Steele is a one-man army, and Sean Parnell uses his background in tactics and weapons to bust into the ranks of the best thriller writers out there."
— C.J. Box,  #1 New York Times bestselling author of The Disappeared

"Falling somewhere between Brad Thor's Scot Harvath and Brad Taylor's Pike Logan, Eric Steele is a formidable new protagonist whom readers will love... If you like conspiracies and bold, larger-than-life characters, Man of War hits fast, hard, and never lets up for a second."
— CrimeReads.com

"Man of War is nonstop action from the first page, a jolt of pure adrenaline. Parnell deploys the full arsenal in this high-stakes thriller."
— Joseph Finder, author of The Switch

"Man of War is an international thriller that delivers.  Well written, tightly plotted, fast paced, and full of mind-twisting conspiracies and surprises.  Parnell's combat experience shines through the pages."
— Nelson DeMille, author of The Cuban Affair

"Another amazing work of art from Sean Parnell. Every page I turned of this masterful thriller gripped me with intrigue and emotion. Sean now lives among the greats such as Brad Thor and Vince Flynn."
— Brent Gleeson, author of Talking Point: A Navy SEAL's 10 Fail Safe Principles

"A heartfelt story that shows how very different people can be thrown together in combat and find a way to make it work. Parnell and the soldiers who fought beside him are all courageous heroes—real bad asses. I really enjoyed the book."
— Chris Kyle, bestselling author of American Sniper on Outlaw Platoon

"The range of emotions that Sean Parnell summons in Outlaw Platoon [is] stunning. A nuanced, compelling memoir . . . Parnell shows he's a gifted, brave storyteller."
— Pittsburgh Tribune

"Outlaw Platoon is an exceptional look into the mind of a platoon leader in Afghanistan; Captain Parnell shares his experiences of leadership, loss, and aggressive military tactics. You can really feel the bonds forged between these brothers in arms as the battle plays out"
— Marcus Luttrell, author of Lone Survivor

"At times, I forgot I was reading about a war as I was drawn up in the drama the same way you [are] when reading Krakauer's Into Thin Air . . . This is a book of probing honesty, wrenching drama and courage."
— Doug Stanton, author of Horse Soldiers on Outlaw Platoon

"Man of War is a relentless, adrenaline-pumping thriller, bristling with nonstop action and suspense. Parnell … knows the sting of battle, physically and psychologically... His action hero Eric Steele is as authentic as it gets. This is one hell of a debut book."
— Rorke Denver, former SEAL Commander and author of Damn Few: Making The Modern SEAL Warrior 

"A great tale that rivals the exciting military fiction writers of our time like Clancy and Thor.  Pulling from real world experience, Parnell crafts a story with Man of War that is realistic, entertaining and suspenseful… Look out Jason Bourne, Eric Steele has arrived!"
— Jason Redman, author of The Trident and former Navy SEAL Lt.