The Swimmer: A Novel (Paperback)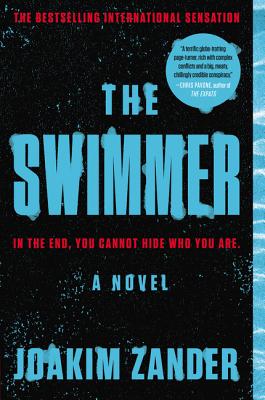 $15.99
Email or call for price.
February 2015 Indie Next List
---
"This Swedish thriller with its roots in the Middle East features a burnt-out CIA agent, a couple of incredible young women, and a rogue company of villains that contracted with the CIA to do 'enhanced' interrogation in Iraq and Afghanistan. With untrustworthy colleagues, a greedy, self-interested lobbyist, and shifting alliances, Klara Waldeen, a lawyer working in an EU office in Brussels, finds herself enmeshed in a cover-up with deadly elements. Her tribulations, after a terrifying chase around Europe, culminate on Christmas Eve on an island off the coast of Sweden in the arms of her grandparents. Thrilling post-holiday reading!"
— Darwin Ellis, Books On The Common, Ridgefield, CT
Description
---
A deep-cover CIA agent races across Europe to save the daughter he never knew in this electrifying debut thriller—an international sensation billed as "Homeland meets Stieg Larsson" that heralds the arrival of a new master sure to follow in the footsteps of Stieg Larsson, John Le Carré, and Graham Greene.
In the end, you cannot hide who you are.
Klara Walldéen was raised by her grandparents on a remote archipelago in the Baltic Sea, learning to fish and hunt and sail a boat through a storm. Now, as an EU Parliament aide in Brussels, she is learning how to navigate the treacherous currents of international politics: the lines between friend and enemy, truth and lies.
But Klara has accidentally seen something she shouldn't have: a laptop containing information so sensitive that someone will kill to keep hidden. Suddenly, she is thrown into a terrifying chase across Europe, with no idea who is hunting her or why.
Meanwhile, in Virginia, an old spy hides from his past. Once, he was a man of action, an operative so dedicated that he abandoned his infant daughter to keep his cover. Now, he is the only man who can save Klara . . . and she is the only woman who can allow him to lay old ghosts to rest.
About the Author
---
Joakim Zander was born in Stockholm, has lived in Syria and Israel, and graduated from high school in the United States. He earned a PhD in law from Maastricht University in the Netherlands and has worked as a lawyer for the European Union in Brussels and Helsinki. Rights to his debut novel The Swimmer were sold in twenty-eight countries. Zander lives and works in southern Sweden with his family.
Praise For…
---
"A terrific globe-trotting page-turner, rich with complex conflicts and a big, meaty, chillingly credible conspiracy."
— Chris Pavone, author of The Expats and The Accident

"An interesting gambit.... [Zander is] a smart, fluid observer."
— New York Times Book Review

"Effortlessly structured and perfectly paced, The Swimmer is a globetrotting page-turner whose vibrant cast of characters vividly brings to life the harrowing complexities of our modern political landscape."
— Kimberly McCreight, author of Reconstructing Amelia

"Page-turning….This Swedish former lawyer's hypnotic first book is already drawing comparisons to the work of famed spy novelist John le Carré."
— Entertainment Weekly

"An international thriller with the pace and intensity of a Jason Bourne adventure…. Skillfully moving between the past and the present, from Sweden to Syria to Washington and back again, Zander weaves an increasingly tight web of intrigue and suspense…. A compulsively readable page-turner with unexpected heart."
— Kirkus

"Truly polished and compelling…. Tension and action abound. But it is the depth of Zander's characters and the quality of the writing, which at times touches elegance, that make The Swimmer a winner…. Zander looks to be a very talented new branch on the flourishing tree of Scandinavian crime fiction."
— Booklist, starred review

"The Swimmer is hypnotic and intoxicating, pulling us relentlessly across the globe from page to page, intrigue to intrigue."
— Olen Steinhauer, author of The Cairo Affair

"Swedish author Zander's entertaining first novel owes more to Forsythe and Ludlum than to Larsson and Mankell…. Given Zander's literate, descriptive style, it's easy to see why this thriller has been a bestseller in Europe."
— Publishers Weekly

"How can The Swimmer be a first novel? It is dazzling not only in its plotting and character portraits, but in the sophistication of its structure, which keeps us breathless and guessing. An impressive and memorable work, comparable to the best of John le Carré."
— Joseph Finder, author of Suspicion

Praise from Sweden: "Impressive . . . a fast-paced thriller written in an international style. Joakim Zander has a good story to tell, a story that touches on both moral questions as well as guilt and atonement, culpability and revenge."
— Borås Tidning

"The Swimmer is well written and incredibly thrilling, but its strength also lies in a carefully rendered cast of characters and an ability to avoid the predictability of the genre."
— Skånska Dagbladet

"Zander drives up the tension with the help of short, sparing sentences. There is an agenda here: to scrutinize the methods and effects of the so-called battle of good against evil."
— Norrköpings Tidningar

"What could easily have become a forced cliché is brought to life by debut novelist Joakim Zander's rich language and spot-on dramaturgy...In the midst of the breathless action, Zander also succeeds in writing flesh-and-blood characters that feel believable."
— Dalarnas Tidning

"A fluidly written, thrilling, and worthwhile read."
— Folkbladet

Praise from Denmark: "Urban, cosmopolitan environments are ideal for political thrillers, which Joakim Zander demonstrates with flying colors in The Swimmer—a story of war, love, and shifting political agendas."
— Jyllands-Posten

"Joakim Zander delivers a very compelling and intense thriller, and this fine debut makes me think of the highly acclaimed and award-winning American suspense series Homeland, which employs some of the same themes. His ability to suddenly rotate the plot 180 degrees is nothing short of brilliant."
— Litteratursiden.dk

Praise from Italy: "A full immersion into the classic spy story, masterfully written, in which [Zander] pulls the strings of the characters a like a skilled puppeteer."
— La Repubblica

"This novel has all the ingredients to fascinate the global reader...The skillfully intertwined network of characters creates an explosive, thrilling dance in which the accuracy of the details and a language completely free from cliché suggests that debut author Joakim Zander knows perfectly what he is writing about."
— Il Gazzettino

"A mix of adrenaline and suprises that, once again, reinvents the ever-fertile genre of thrillers stemming from Northern Europe."
— Giornale di Brescia

"Thrilling."
— Il Gazzettino

"Dazzling debut."
— Metro