Maya's Notebook: A Novel (Paperback)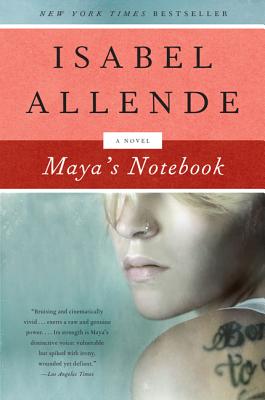 $15.99
Email or call for price.
Description
---
A startling novel of suspense and resilience from New York Times bestselling author of The House of the Spirits, Isabel Allende.
Neglected by her parents, nineteen-year-old Maya Vidal grew up in a rambling old house in Berkeley with her grandparents. Her grandmother, Nidia, affectionately known as Nini, is a force of nature—a woman whose formidable strength helped her build a new life after she emigrated from Chile in 1973. Popo, Maya's grandfather, is an African American astronomer and professor—a gentle man whose solid, comforting presence helps calm the turbulence of Maya's adolescence. When Popo dies of cancer, Maya loses the only grounding force in her life. She turns to drugs, alcohol, and petty crime, eventually bottoming out in Las Vegas. Lost in a dangerous underworld, she is caught in the crosshairs of warring forces—a gang of assassins, the police, the FBI, and Interpol. Her one chance for survival is Nini, who helps her escape to a remote island off the coast of Chile. Here, Maya tries to make sense of the past, unravels mysterious truths about life and her family, and embarks on her greatest adventure: a journey of self-discovery and forgiveness.
About the Author
---
Isabel Allende is the author of twelve works of fiction, including the New York Times bestsellers Maya's Notebook, Island Beneath the Sea, Inés of My Soul, Daughter of Fortune, and a novel that has become a world-renowned classic, The House of the Spirits. Born in Peru and raised in Chile, she lives in California.
Praise For…
---
What sets Maya's Notebook apart from the usual teen-in-trouble fare is the soaring redemption Maya finds in Chile. The village's peaceful pace is a tonic to both Maya and the reader…a captivating read by a great storyteller."
— John Barron, Chicago Tribune

"A brilliant storyteller, Allende creates a giant spiderweb of relationships; pull one thread and the whole structure shudders…fans of Allende and those new to her work will find a great deal of satisfaction in following the often-harrowing but always enlightening adventures of Maya Vidal."
— Philadelphia Inquirer

"A gritty, violent, cautionary tale set firmly in the present. . . . But the writing is still all Allende: driven by emotion…framed by her brand of lyrical description."
— Miami Herald

"Maya's Notebook sings a contemporary tune…the narrative expands from harsh twenty-first century language to lyrical descriptions of Maya's unfolding exterior and interior worlds. It's a coming-of-age tale achieved by immersion in ageless wisdom…the beauty of Allende's writing remains undeniable."
— San Jose Mercury News

"Maya's story is soul-restoring in its fierce conviction that there is no damage done to a society, family or individual that cannot be eclipsed by hope and love. Allende makes you believe that, even if you don't, at least for a while."
— Minneapolis Star Tribune

"Longtime fans of Isabel Allende's work will find much of the author's beguiling mix of clear-eyed toughness and lightness of spirit in her new protagonist, and will welcome another chapter in Allende's continuing exploration of Latin America. Those introduced to Allende by Maya's Notebook surely will want more."
— Seattle Times

"Allende can spin a yarn with the grace of a poet."
— Entertainment Weekly

"Gripping…Allende retains the storytelling magic that is her signature, while deftly juxtaposing the alternating universes of the past-including Chile's dark history of political terror-and present…A tale of a girl's journey toward self-discovery, of the fierce power of truth, and of the healing force of love."
— Jane Ciabattari, O magazine

"Isabel Allende enchants in Maya's Notebook."
— Vanity Fair

"Allende paints a vivid picture contrasting Maya's drug-clouded past and her recovery in Chiloé. Yet another accomplished work by a master storyteller that will enthrall and captivate. This is a must-read."
— Library Journal (starred review)

"Allende is a master at plucking heartstrings, and Maya's family drama is hard to resist."
— Kirkus Reviews

"An explosive novel…Every character is enthralling…This is a boldly plotted, sharply funny, and purposefully bone-shaking novel of sexual violence, political terror, "collective shame," and dark family secrets, all transcended by courage and love."
— Booklist (starred review)

"Bruising and cinematically vivid…Maya's Notebook exerts a raw and genuine power…Its strength is Maya's distinctive voice: vulnerable but spiked with irony, wounded yet defiant, like a teenage emo-punk's pierced tongue."
— Reed Johnson, Los Angeles Times

"A riveting new novel…From the very start, Maya is in possession of a strong and authentic voice that guides the novel and gives it shape."
— Malena Watrous, San Francisco Chronicle