The Bingo Palace: A Novel (Paperback)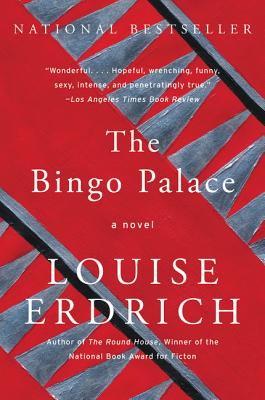 $15.99
Email or call for price.
Description
---
From award-winning New York Times bestselling author Louise Erdrich comes this novel of spiritual death, lyrical prose, and wild hope: a striking, luminous chapter in Erdrich's Ojibwe saga.
At the crossroads of his life, Lipsha Morrissey is summoned by his grandmother to return to the reservation. There, he falls in love for the very first time—with the beautiful Shawnee Ray, who's already considering a marriage proposal from Lipsha's wealthy entrepreneurial boss, Lyman Lamartine. But when all efforts to win Shawnee's affections go hopelessly awry, Lipsha seeks out his great-grandmother for a magical solution to his romantic dilemma—on sacred ground where a federally sanctioned bingo palace is slated for construction.
Louise Erdrich's luminous novel The Bingo Palace is a tale of spiritual death and reawakening; of money, desperate love, and wild hope; and of the enduring power of cherished dreams.
"Wonderful...hopeful, wrenching, funny, sexy, intense, and penetratingly true."—Los Angeles Times Book Review
About the Author
---
Louise Erdrich, a member of the Turtle Mountain Band of Chippewa, is the author of many novels as well as volumes of poetry, children's books, and a memoir of early motherhood. Her novel The Round House won the National Book Award for Fiction. Love Medicine and LaRose received the National Book Critics Circle Award for Fiction. Erdrich lives in Minnesota with her daughters and is the owner of Birchbark Books, a small independent bookstore. Her most recent book, The Night Watchman, won the Pulitzer Prize. A ghost lives in her creaky old house.